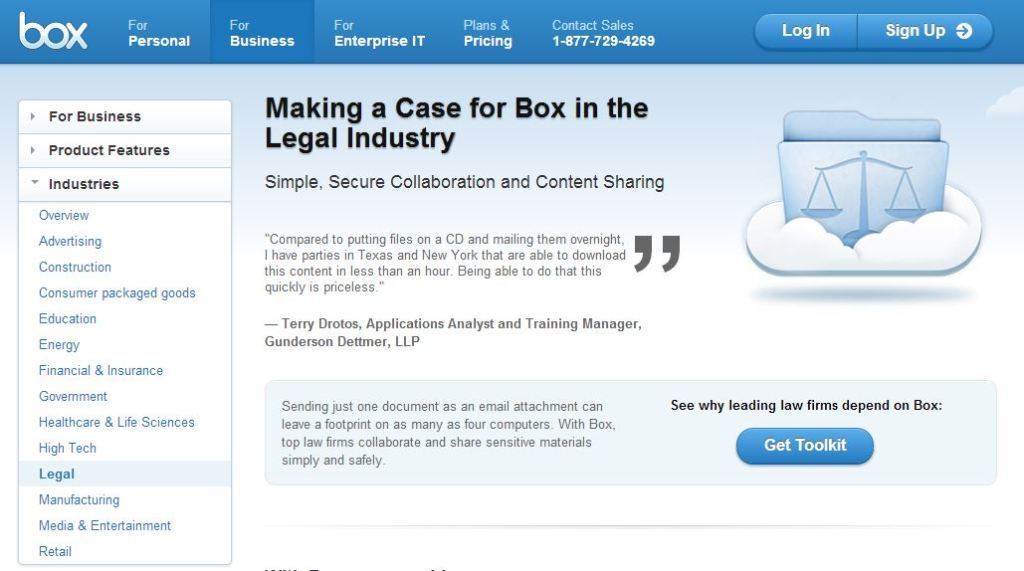 If you happened to read the June issue of Law Technology News, you may have noticed a three-page "advertorial" section on cloud computing for the legal profession sponsored by the file-sharing platform Box. Or if you visited the Box site recently, you may have noticed a new teaser on the front page inviting to learn more about Box for the legal industry. You might also have noticed that Box recently hired Nitin Gupta, the man who founded LawPivot (which I reviewed here) and then sold it to Rocket Lawyer, as director of professional-services marketing.
All of this is part of a ramped-up push by Box to expand its penetration in the legal industry. Perhaps unspoken in this push is that Box has been outpaced among legal professionals by Dropbox, the free file-sharing platform that sometime seems almost ubiquitous within the legal profession. In fact, among consumers generally, Dropbox is second in numbers of users only to Apple's iCloud among cloud-storage platforms.
Even so, Box has been gaining ground. Earlier this year, it said that its sales to law firms had increased by 70 percent during 2012. To the extent that Dropbox has outpaced Box among lawyers, then the reason is somewhat of a mystery, because, in terms of the features and security a law firm would want, Box outpaces Dropbox in several respects.
Notably, Box was developed from the get-go as a platform for business and enterprise document sharing and collaboration while Dropbox started out with a focus on consumers. Dropbox began to target businesses only in 2011, when it launched Dropbox for Teams, which it rebranded in April 2013 as Dropbox for Business.
Box offers a free, single-user subscription that comes with 5 GB of storage, which is more than the 2 GB you get with the basic Dropbox plan. However, the features that make Box attractive to lawyers come only with the business or enterprise plans. The business plan is $15 per user per month and includes 1,000 GB of storage per user.
Administrative and Access Controls
Some of the notable features Box offers include:
File synchronization across multiple PCs and mobile devices.
An administrative console where you can add and delete users, add and delete groups, assign rights to folders, and monitor file activity.
Role-based access controls, allowing you to set different levels of permissions for different users and folders.
The ability to edit documents in Box using your native desktop applications.
Complete version histories.
High-level encryption for files both during transfer and at rest. Dropbox does not encrypt files at rest.
Box integrates with two cloud-based platforms popular among legal professionals, practice management platform Clio and information security application IntApp. Through the Clio integration, documents in Box can be linked directly to cases and matters in Clio. The IntApp integration enables law firms to monitor lawyer and staff access to sensitive documents and provide alerts of abnormal activity.
Box also integrates with Google Apps, allowing you to crate Google Docs from directly within Box and easily share them via Gmail.
And, as Gupta told me in a recent phone conversation, Box is working on further expanding its integration with legal-specific applications. "We are focused on the legal vertical," he said, "and we are expanding our partner ecosystem in the legal space."
Box has strong collaboration features. You can easily invite others to view and edit files. As you work with others on files, you can post comments and track file versions. You can assign tasks to files, such as to approve, review or update a file.
Box also has Box OneCloud, a well-developed ecosystem of mobile apps that integrate directly with Box and that cover a range of functions from document editing and note-taking to faxing and wireless printing.
If you have never tried Box, consider giving it a go. As a solo, I am quite happy with the free version of Box. I do not need administrative and access controls. Somewhere along the line, Box bumped me up to 50 GB of storage as part of a promotion, so I have ample space for my files.
As I said above, you will need the paid business version to get advanced features such as the administrative console, role-based access and access management. However, you can try the business version for free for 14 days, so you can get a taste of it without spending a dime.