Take a look at this picture. Click on it anywhere and watch how it refocuses. Now doubleclick anywhere and you'll zoom in and refocus again. Doubleclick again to zoom back out.
This picture is made possible by a unique little device called the Lytro camera. As its website explains it, the Lytro is the first consumer camera that records the entire light field. By doing that, it enables you to refocus pictures after you take them. A new feature (not viewable in the image above) even lets you shift your perspective slightly, moving the picture up, down or sideways to change your point of view.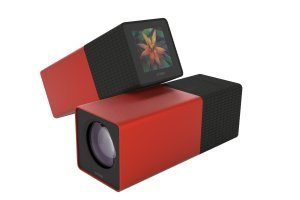 The camera is available on Amazon for $399 for the 8GB version, said to hold 350 pictures, and $499 for the 16GB version, which it says will hold 750 pictures. Both versions come with 8x optical zoom and a 1.52 inch back-lit LCD display and touchscreen from which you control all the functions.
Now allow me to confess that the handsome young man in the photo above is my son Ben and that he is how I learned about this camera. He is part of a team producing a series of eight Lytro Lesson videos that use people and places in San Francisco to illustrate the camera's features. (As of this writing, five have been posted.) In addition to the videos, you can see the pictures they took during the shoots at lessons.lytro.com.