When I launched this blog in November 2002, I joined the ranks of what then were only a small number of legal blogs. Among those who inspired me back then to start blogging was New Orleans lawyer Ernest Svenson, better known to the legal world as Ernie the Attorney. Ernie started his first blog on March 2, 2002, and later launched a second blog, PDF for Lawyers. Over the years, I have heard other lawyers say that Ernie helped inspire them to start blogging just as he helped inspire me.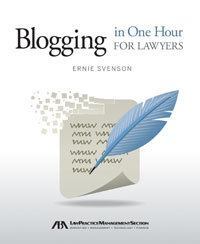 Who better, then, to write the book on blogging for lawyers than Ernie Svenson? That is exactly what he has done in Blogging in One Hour for Lawyers, recently published by the Law Practice Management Section of the American Bar Association.
As the name suggests, this is a concise guide to blogging with a focus on the mechanics of creating and launching a blog. Ernie starts the book by answering some basic questions about what blogs are and why lawyers should care about them. In subsequent chapters, he then walks through the anatomy of a blog, selecting the right blog software, setting up a blog, designing a blog and writing your initial posts.
Ernie also covers how to promote your blog and offers ideas on how to come up with a steady stream of material to blog about. In the final chapter, he reviews ethical considerations and offers tips for success. An appendix includes lists of recommended law blogs and recommended reading along with a checklist for new bloggers.
If you are new to blogging, you will not go wrong in buying this book. Ernie covers virtually every question a new blogger might have, right down to basics such as how long to make your posts and what writing style to use.
Reluctantly, I do have one quibble to point out. The book focuses heavily on the little-used blogging platform Typepad and gives only short shrift to WordPress, which the most-popular blogging platform by far. A recent study found that only 2 percent of blogs use Typepad, while 48 percent use WordPress. Despite that, the chapters on setting up, designing and posting to a blog all describe how to do these things in Typepad, but not in WordPress.
In addition, the book fails to distinguish between WordPress.com, which is a commercial hosting site for WordPress blogs, and WordPress.org, which is the home of the blogging software. In fact, in briefly describing WordPress, the book sounds as if it is talking about the software, but it  provides a screenshot of and link to the WordPress.com site. The book makes it sound as if the WordPress software is difficult to install, set up and design, whereas most website hosting providers will install it automatically on your site at no cost and there are any number of free, attractive design templates available to use with WordPress at the click of a button.
That said, when it comes down to using the different blogging platforms, there is not that much difference among them. My own recommendation would be WordPress over Typepad, but I would still say that this book is worth obtaining. As Ernie himself says in the book, even if you've opted for a WordPress blog, the book's sections on set up and design "will still be useful for understanding the typical options for a blog, and why you'd choose some things and not others."
The cost of the book is $39.95. Members of the ABA's Law Practice Management Section can buy it for the discounted price of $24.95.
You are not likely to find an author who knows more about legal blogging than Ernie Svenson. If you are thinking about starting a blog, this book will walk you through the essential elements you'll need to know.