After more than seven years of weekly shows, this week's Lawyer2Lawyer is our last. The Legal Talk Network, which has been our home since we started the show in August 2005, is closing down. The full archive of our shows will remain available for download through the end of the year. We may move them elsewhere after that, but we have no firm plans.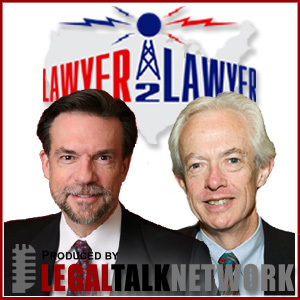 We started Lawyer2Lawyer with the idea of providing quality content and discussion of timely legal news and information for the legal profession. We became the longest continuously running legal podcast and grew to have some 80,000 regular listeners a month from all corners of the globe. Craig Williams and I are proud of the show and, who knows, may yet revive it elsewhere.
I cannot heap enough praise on the great people at the Legal Talk Network. Special thanks to Lu Ann Reeb and Scott Hess, the LTN's founders, and to our longtime producer, Kate Kenney, and engineer, Mike Hochman. Also a special thanks to our various sponsors, expecially our longest-running and most consistent sponsor, Clio.
Thanks, most of all, to our listeners. I've already heard from a number of you and your kind words are deeply appreciated. Your support and encouragement made the show the modest success it was.