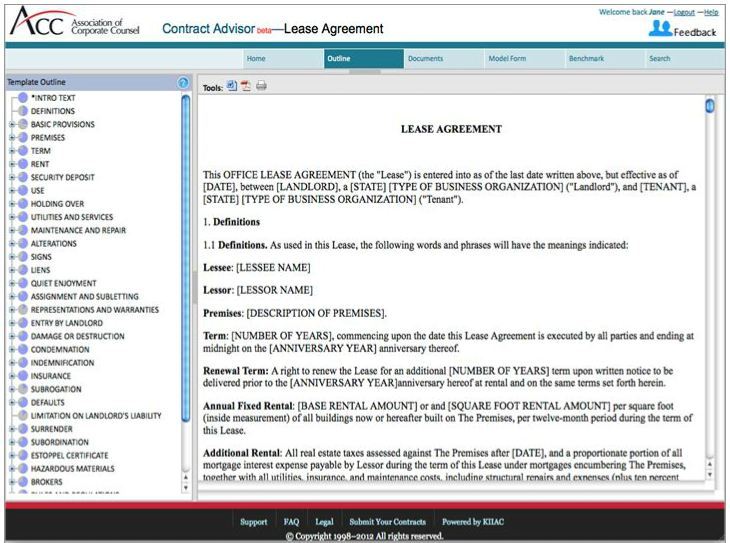 The Association of Corporate Counsel today launched ACC Contract Advisor, a contract-drafting tool built on what is described as a "vast collection" of sample contracts and thousands of real-world clauses. Launched in collaboration with kiiac.com, the new resource is, unfortunately, available only to ACC members.
Contract Advisor offers four primary features:
Model contracts. These standard contracts are described as a synthesis of the most common language and clauses drawn from a collection of sample contracts and from member-submitted forms and policies. For its initial launch, Contract Advisor includes 10 contracts and policies. New forms and policies will continue to be added, the site says.
Clause library. For each contract type, select from a wide range of thousands of clauses. It is organized by agreement and clause type. For each clause, it shows you both a model clause and a full selection of other clauses within the database.
Benchmark tool. Use this to compare a contract you drafted against the Contract Advisor database. It will show you matching clauses, divergent clauses and missing clauses.
Source documents. A user can access any of the source documents contained within the system.
Contract Advisor is fully searchable, so that a user can search all documents for specific language. Model contracts and clauses can be downloaded in Word or PDF formats.
Even if you are not an ACC member, you can see more about it via a series of tutorials on the Contract Advisor landing page.