In January, I wrote here about MyPocketAttorney, a website that lets lawyers build their own smartphone apps using templates designed for law offices and legal professionals. Now there is another company offering something similar through its website, but this new entry, called Barrister App, is different in several ways — some good, some not.
On the plus side, Barrister App was created specifically for the legal profession. By contrast, MyPocketAttorney came from a company that did the same thing for any number of professions (MyPocketInsurance, MyPocketRealtor, MyPocketChurch and MyPocketFuneral, to name some). Further, Barrister App comes with a simple content management system (CMS) on the back end that lets you add content about your firm and its attorneys, customize the look of the app, manage your information, and even send notifications to your clients.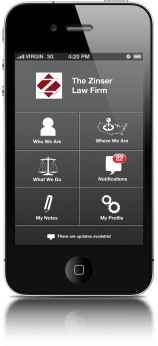 Even so, there are limits to what you can do. Your design is confined to the template of the app. You can change its color, but only from a choice of six colors. You can add your own logo and your own firm's information, but every law firm that uses Barrister App will end up with an app that is built on the same basic design.
But for me, the most puzzling aspect of Barrister App is that, before anyone can use it, they must contact you outside the app and request a login and password. This befuddles me, because Barrister App advertises itself as a tool for helping law firms "connect with would-be clients." Unfortunately, it just doesn't work that way.
If someone interested in your firm went to the iTunes, Android or Blackberry store looking for your app, their search would be fruitless. The app appears in the store only under the name Barrister App, not under your firm name (as it would if you developed your own app). The potentially interested user would have to know to download the app and then to contact you for a password. Only after you give the user credentials can he or she log in.
This might make sense as a client-communications tool. In fact, the Barrister App seems to have been designed with communications with current clients in mind. Its CMS dashboard prompts you to enter client names and contact information so that you can give them passwords. It includes a push-notification feature that lets you send notices to individual clients or to everyone whose name youve added in the dashboard.
But as a marketing tool, it makes no sense. If someone is merely interested in learning more about your firm, he or she is highly unlikely to call you and request permission to use your app. To the extent Barrister App calls itself a tool for reaching "would-be" clients, it is a shallow promise.
How It Works
When you purchase the Barrister App for your firm, you get access to a back-end CMS that walks you through the set up. Set up is easy and straightforward.
Your app will include these components:
Who We Are. This is where the app lists your attorneys, their contact information and their practice areas.
Where We Are. This shows your office or offices on Google Maps.
What We Do. The list of your practice areas.
Notifications. As noted above, you can sent notifications to clients — anything from appointment reminders to firm news.
My Notes. Users can make and store notes here.
My Profile. The client inputs information here.
You set this all up in the CMS, where you start with a tab labeled "My Firm Profile." There, you enter basic information about the firm, add a description, and upload a logo. You then go the "Address" tab and enter the addresses for each of your firm's offices. This provides the information for Google Maps to show your location.
The next step is to create "Categories," which are your firm's practice areas. From there, you add each of your attorneys. As you do, you associate the attorney with the appropriate practice areas. You can include an attorney bio and photo.
As I noted, there is also a tab for adding clients. This allows you to set them up with a password.
The last tab is for sending notifications. Simply select who to direct it to, fill out the information, schedule it, and you're done.
What it Costs
The cost of this is based on the size of your firm:
1-9 lawyers: $395.
10-25 lawyers: $995.
26-99 lawyers: $1,995.
100+ lawyers: $2,995.
In addition, you must pay an annual support and maintenance fee equal to 20% of the purchase price.
The Bottom Line
Given the constrictions I described above — that you can't market this app under your own firm's name and that potential users must contact you for a password — this app is of little use for marketing to new  or "would-be" clients. Of course, marketing also involves engaging with current and former clients. As a way of keeping in touch with existing clients and of giving them ready access to your attorneys, this could be useful.