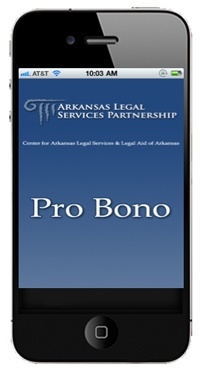 The Legal Services Corporation's Technology Initiative Grants program held its annual conference last week in Albuquerque. I wasn't there, but I wish I had been. The conference focused on exploring innovative ways of using technology to promote full access and high-quality legal representation for low-income people. Read the program book to get a taste of what was covered.
One clever idea introduced there was iProBono, an iPhone app that allows attorneys to review and sign-up for pro bono cases. The app is being developed for the Arkansas Legal Services Partnership. The developers' site indicates they would develop the app for other states.
The app will let Arkansas lawyers view a list of current pro bono cases, and search and filter the cases by topic, location and other parameters. Lawyers will be able to accept cases directly through the app, after which the app will show a list of their active and completed cases.
It appears the app has not yet been released, since I can't find it in the iTunes store. The Arkansas Legal Services Partnership site describes it as "soon to be available."
Will a pro bono app cause more lawyers to take these cases? Probably not. But it will make it easier for those who are willing. In any event, it's a good example of how even small-scale technology innovations can help make legal services more broadly available.