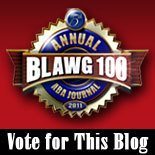 Forgive a guy a little blowing of my own horn here, but I am thrilled and honored to report that the ABA Journal has again included this blog in its annual Blawg 100, its selection of the 100 best law blogs by lawyers, for lawyers. This is the fourth time LawSites has been included — out of just five years the Journal has compiled the Blawg 100.
Now comes the part where readers vote for their favorites on the list. If you want to cast a vote my way, I won't try to stop you. You'll find this blog in the "legal technology" category.
Also a Blawg 100 winner is Small Firm Innovation, a blog I contribute to (although not often enough) along with a stellar roster of other contributors. Considering the blog was launched just this year, it is a great honor. You'll find Small Firm Innovation in the LPM category.
LawSites was previous named to the Blawg 100 in 2010, 2009 and 2007. Besides LawSites, past Blawg 100 winners I've been involved in were:
Congratulations to all of this year's winners. And thanks to the ABA Journal for again recognizing this blog.