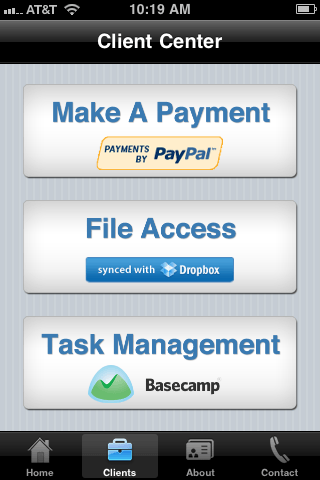 A growing number of larger law firms are releasing their own mobile apps. But what about solo and smaller firm lawyers? Last week, Aaron Kelly, a solo who practices Internet law in Scottsdale, Ariz., released an app for Apple and Android devices. It incorporates a couple clever ideas that could provide inspiration for other small-firm lawyers thinking of developing apps of their own.
The app is designed to give Kelly's clients access to information about their cases. To this end, the app features integration with both file-sharing site Dropbox and project-management site Basecamp. With the integration of those tools, the app lets clients review their documents and check the status of their matters. The app also integrates PayPal, so that clients can use it to pay their invoices.
The app also includes features you might expect. It allows users to follow the firm's news and blog posts and to follow its Facebook, Twitter and LinkedIn feeds. The app can be used to launch a live chat with someone at the firm. It can also be used by a non-client to submit a case for evaluation.
What I like about this app is that it answers the question many lawyers have about creating one in the first place, which is, "Why?" Here, the answer is to give clients easy mobile access to key case information. Yes, even solos can have clever mobile apps.
Here are the links to the app's Android version and Apple version.