Novelist Elmore Leonard once said about his writing, "I leave out the parts that most people skip." His statement, at once so simple and so quizzical, could as easily have come from either Buddha or Yogi Berra. Leonard's point, however, is clear. Lean writing is strong writing.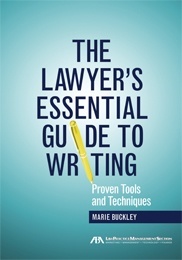 For many lawyers, lean writing is anathema. Why use one word when we can string together several? Why use a simple word when an obtuse one is available? If we can say it in Latin, let's do. And when in doubt, Capitalize. For a profession so grounded in writing, lawyers often are not very good at it.
Recognizing bad writing is easy. Teaching someone to write well is not. Marie Buckley found this out when her former law firm asked her to teach writing to young lawyers. As she strove to become a better teacher of writing–to explain not just what changes to make, but why to make them–she began to assemble a collection of lessons. Over time, she developed those lessons into a manuscript. Now, that manuscript is about to be a book, The Lawyer's Essential Guide to Writing, published by the American Bar Association's Law Practice Management Section.
For Buckley, a former Boston litigator, teaching writing and advocacy to lawyers became her career. Through her Legal Advocacy Workshops, she has trained more than 1,000 lawyers how to be better writers and advocates. Those years of coaching, she writes in the preface to this book, "left me with strong convictions about what makes for powerful legal writing and an even stronger belief that legal writing is a skill that can be taught and learned."
A preview copy of the manuscript convinced me that this is a book every lawyer should read. In fact, I provided a testimonial that currently appears on the book's ordering page:
Marie Buckley provides lawyers an eloquent instruction manual for clear and persuasive writing. Notably, she covers not just the workaday wordsmithery of briefs and memoranda, but also gives guidance for writing letters, emails and blogs. Throughout, her emphasis is on clarity and simplicity. This is a book not just for newer lawyers but for any lawyer who wants to be a better writer.
In the interest of full disclosure, I should also note that I get a nod in the acknowledgments section "for kick-starting this project." Marie is generous, given that my kick start consisted only of reviewing an early manuscript draft and introducing Marie to the then-chair of the Law Practice Management Section's publishing board.
The book goes to press any day now and is available for pre-order at a 15% discount.  Order by July 31 and get an additional 20% discount. The regular price of the book is $79.95. For members of the Law Practice Management Section, the regular price is $47.95. Members of the ABA's Law Student and Young Lawyers divisions pay $39.95.

Buckley–who also blogs at A Lawyer's Guide to Writing–begins every chapter of her book with a quote. The Leonard quote above is one. The honor of opening the first chapter goes to Winnie the Pooh, who said, "For I am a bear of very little brain and long words bother me." They bother Buckley too. Consider this book her honey pot of helpful guidance.