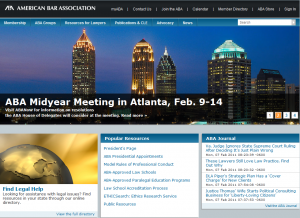 Call it "Extreme Makeover, Bar Edition." The American Bar Association today took the wraps off a major redesign of its website and moved the site from its former URL, abanet.org, to a new address, americanbar.org.
"The new and improved website includes a fresh overall design as well as improved functionality that offer simpler navigation, better search capabilities and enhanced interactive features," says an announcement posted on the site. More than a year in the making, the website redesign involved the work of hundreds of ABA members and staff and "was one of the largest ABA efforts in the association's history," the announcement says.
Without having spent too much time exploring the new site, what jumps out at me is the improved layout of the home page and of the front pages of the various subsections within the site, such as for the ABA's many sections, divisions and forums. Boxes arranged as components on these pages provide a quick overview of what is new and links to key resources.
As of this morning, the ABA seems to still be working some bugs out of the new site, with the occasional broken or misdirected link. But my initial impression is that the new layout is a notable improvement.