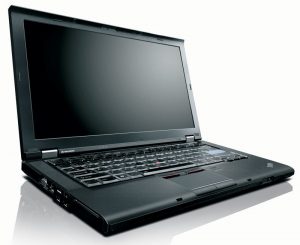 If David Pogue can write a love letter to a camera, I don't see why I shouldn't write one to my laptop — or, actually, to a family of laptops, the Thinkpad.
I just bought what will be my third Thinkpad. It hasn't even arrived yet, so I should be cautious about singing its praises. I shopped around and looked at various laptops — and, yes, I considered Macs. I finally settled on the Thinkpad 410, nicely equipped and at a fair price.
Durability is what sold me. My first Thinkpad, a 600E, is more than a decade old. The darn thing just won't stop running, although its old Pentium II processor now seems slow as heck. Six years ago, I retired the 600E and bought a T43. It has remained my primary computer until now and still runs without a hitch. Powered by a mere Pentium M processor, it still is up to any office task I throw at it and does a yeoman's job with heftier programs such as Photoshop.
Here's what a reviewer wrote about the T43 in 2005:
The ThinkPad brand has been built over many years now and has come to stand for high-quality, solidly built notebooks that are rugged in their matte black look, yet sleek and professional at the same time.
I couldn't have said it better myself. And it remains so today, well after Lenovo took over the Thinkpad brand from IBM.
Here is what a reviewer wrote this year about my latest Thinkpad, the T410:
The ThinkPad T410 continues the ThinkPad T Series's long tradition of providing workstation level performance in a portable package. If you want a lighter business notebook, you might want to consider the slimmer but more expensive T400s. However, if you're looking for a top performing 14-inch business system with a comfortable keyboard and a dash of style, the T410 is a great choice.
Ross Kodner — who goes through laptops, as he puts it, "as if they were Schick Quattro Pro blades" — recently wrote about his latest Thinkpad, the ultraportable Thinkpad X100E netbook. Bravely, he plans to use it as his primary computer, substituting it for his brawnier T-series desktop. I'm not quite that brave, but Ross's trust in that tinier Thinkpad is a testament to his faith in the Thinkpad brand overall. "I've long been partial to Thinkpads based on my personal experience with them as rock-solid workhorses," he writes.
The worst criticism I've heard about Thinkpads is that they're ugly. I guess that just proves that beauty is in the eye of the beholder. I probably could have saved myself a few dollars in the short run had I gone with a different laptop, but I just couldn't break off my long relationship with the Thinkpad.