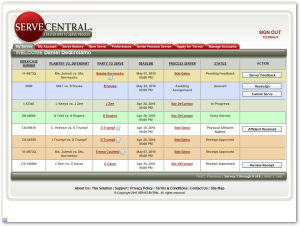 When his lawyer could not readily provide an update on the status of service of a lawsuit, software entrepreneur Robert J. Daino decided to do something about it. In March, after two years of development, Daino launched ServeCentral, a Web-based tool designed to help legal professionals manage the process of service of process.
The site allows lawyers, paralegals and legal assistants to manage every stage of service of process, from assigning a process server to final billing and payment. A dashboard (pictured above) that you view in a browser provides an at-a-glance summary of the status of all your cases and e-mail notifications keep you informed of every development.
In a nutshell, here is how it works:
A wizard walks you through the process of setting up a new service of process. It prompts you for details about the case, the service and the person to be served. If you'd like, you can even upload a photo of the person. It then prompts you to upload the documents to be served in PDF format.
The next step is to choose a process server. ServeCentral gives you three options. You can select from a list of process servers who work in the location. You can ask ServeCentral to select a process server for you. Or you can assign the job to a process server you work with by inviting the server to join ServeCentral (there is no cost to the process server).
Once the case is assigned, your dashboard displays real-time updates of the status and you also receive updates via e-mail. When the service is complete, you receive an electronic proof of service and an itemized receipt. As soon as you approve the receipt, ServeCentral pays the process server.
The dashboard maintains a complete history of all your cases, even after service is completed. Participating process servers get a similar dashboard from which they manage their assignments.
The cost to a law firm of using ServeCentral is a nominal fixed fee per service (in addition to the process server's fees, of course). There is no additional subscription fee and there is no charge to the process server. ServeCentral's pitch is that it easily pays for itself and more, given the time savings for law firm staff, the reduction in internal printing costs and the elimination of courier expenses.
Headquartered in Syracuse, N.Y., ServeCentral was founded by executives of Promergent, a company that develops process, change and document management software.