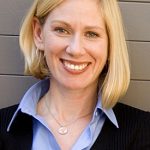 Fast Company has published its list of the 100 most creative people in business. One of those 100 people is Lisa Stone, who gave up writing a legal blog to found and run BlogHer, thereby earning her place on this list.
BlogHer is a publishing and events network for women in social media. Stone is a long-time journalist who was the founding author of Legal Blog Watch on Law.com. When she left LBW to start BlogHer (together with co-founders Elisa Camahort and Jory Des Jardins), so big were the shoes she left behind that it took two bloggers to replace her. I was fortunate to be one of them, along with Carolyn Elefant. (Meanwhile, Bruce Carton and Eric Lipman have now taken over posting duties at LBW.)
So, congratulations Lisa!