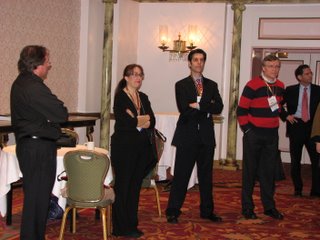 Life has many mysteries, among them the identity of the anonymous editor of Blawg Review, who for some reason opts to keep his who-abouts and his whereabouts a secret. I was intrigued when he wrote last week that he would be at LegalTech New York and invited e-mails from anyone interested in meeting him. I responded immediately but heard nothing back. So I was pleasantly surprised at a Law.com-sponsored bloggers' breakfast at LegalTech to find myself standing next to the anonymous editor. His name tag bore a pseudonym, "Ed Post," and he was appropriately dressed for a man of mystery in all black. If I'd ever guessed at his identify, I'd been wrong, because he is not someone I've met or seen before. He offered few details about himself, other than that he now lives in Southern California, albeit temporarily, and is a lawyer who has dabbled in technology for a long time. His accent suggests that he is a native of upstate New York or Ontario and he was headed to Buffalo after he concluded his visit to Manhattan.
He waved off a direct photograph and turned sideways to me as I captured him in the line-up of Law.com bloggers pictured here, which also shows Carolyn Elefant, Arnie Herz and Rees Morrison. But for this brief glimpse and these sketchy details, his anonymity and his mystery remain intact.
Other reported sightings of Ed: Eric Turkewitz and John Bringardner.