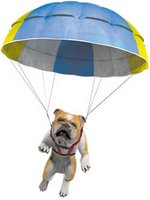 The law firm Womble Carlyle Sandridge & Rice is introducing a new tagline, "Innovators at Law," and releasing four animated videos that illustrate the theme using the firm's mascot, Winston the bulldog. In the first video of the series, titled "Zip Past Barriers," Winston attempts to walk a tightwire until he realizes that he can cross more quickly by turning it into a zip line. The firm gave me a preview of others in the series, yet to be released:
Manage Risk Wisely. Winston dons a parachute to jump off a diving board.
Rise to the Challenge. Winston innovates to get over the high hurdle.
Demonstrate Evidence. Winston helps explain the meaning of a chart.
Russell N. Thomas, the firm's director of media and public relations, says that the animated ads are playing in office-building elevators throughout the D.C. metro market and in Atlanta. Related print ads (such as this one) are running in the Southeastern and Washington/Baltimore editions of the Wall St. Journal and will run in various other publications. Ads will also run online.
According to Winston's profile, he was born out of the firm's 1996 ad campaign, in which one ad featured a soulful bulldog staring out at the reader. He was such a hit that the firm turned to advertising consultants Burkey Belser and Diane Hartley and ended up with the bulldog as the centerpiece of a new ad campaign.