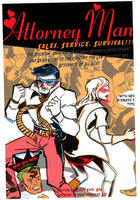 A debut comic book, Attorney Man, is designed to teach lawyers how to be better salespeople. Created by Karen Katz, a consultant with Boston's Law Practice Consultants, and Raul Gonzalez, a Somerville, Mass., artist, the comic tells the tale of Tim Silver, lawyer at the law firm Cha Chingi Changa LLP. A profile by Sacha Pfeiffer yesterday in The Boston Globe provides an overview:
"Newly aware that 'thinking like a lawyer' is holding him back, he takes to heart what clients often dislike about their lawyers: arrogance, poor communication, missed deadlines, unexplained bills, uninformed associates.

"By becoming a more skillful listener and communicator, Attorney Man masters the art of sales and develops a healthy roster of supersatisfied clients. 'Wow! Look at those learned hands!' one client gushes admiringly. 'You are the first attorney to ever ask us what we think!' croons another."
Pfeiffer says the book is "an action-packed, amusingly written, elaborately illustrated tale." To find out for yourself, you can purchase the book for $10 at the Attorney Man Web site.