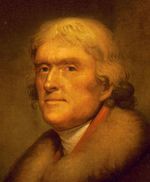 He was admitted to the bar in 1765 and went on to shape a nation's laws as no other lawyer before him or since. Thomas Jefferson the statesman is well known, but Jefferson the lawyer is abundantly evident in The Thomas Jefferson Papers, a collection of some 27,000 original Jefferson documents published online through the American Memory project of the Library of Congress.
From the collection's introduction:
"The collection is organized into ten series or groupings, ranging in date from 1606 to 1827. Correspondence, memoranda, notes, and drafts of documents make up two-thirds of the Papers and document Jefferson's activities as a delegate to the second Continental Congress; his drafting of the Declaration of Independence, June-July 1776; his position as governor of Virginia, 1779-81; his return to Congress as a representative, 1783-84; and his appointment as minister plenipotentiary in Europe and then minister to the Court of Louis XVI, succeeding Benjamin Franklin, 1784-89. Well documented are his two administrations as president from 1801 through 1809, when he engineered the purchase of the Louisiana territory and maintained American neutrality in the conflict between France and Great Britain that led to the War of 1812."
Here, for example, is his rough draft of the Declaration of Independence, bearing his words, "We hold these truths to be self-evident: that all men are created equal."
Most of this online collection consists of digitally scanned images of microfilmed copies of handwritten documents. Legibility varies, but some of the documents include searchable text transcriptions.