Rocket Matter, a cloud-based law practice management platform, now has an integration with OpenAI's ChatGPT artificial intelligence, providing its users with quick access to ChatGPT from anywhere within the Rocket Matter application.
The integration allows Rocket Matter users to leverage ChatGPT for purposes such as drafting a message or summarizing a document, without the user having to leave the platform or have a separate ChatGPT license.
It does not provide any functionality beyond what a user could do directly in ChatGPT, but it provides the convenience of accessing ChatGPT from within the user's practice management platform.
In later releases, Rocket Matter plans to enhance the integration's functionality by enabling users to leverage the ChatGPT integration to generate insights from the business intelligence within Rocket Matter. This will include designing reports and finding financial information.
Rocket Matter said it plans to continue developing the integration in order to help users perform tasks such as extracting information from documents, designing reports, and finding support information.
In an upcoming release of the integration, Rocket Matter will add document review, allowing customers to upload large sets of documents and use ChatGPT to quickly review and categorize them. That is slated to come by the end of the quarter.
The integration is available for all paid and free-trial users of Rocket Matter on an opt-in basis. Users can request to opt in using a form within Rocket Matter or by contacting the company's sales and support teams.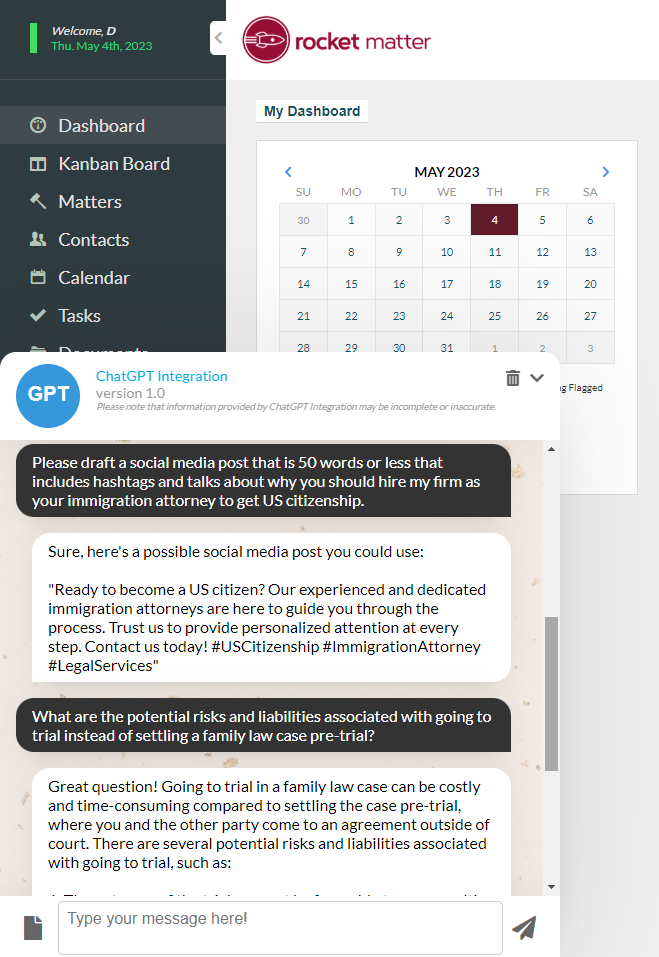 First Of Many Integrations
In a demonstration last week, Larry Port, founder of Rocket Matter, and Dan Jacobs, founder of Law Ruler, said that they are part of an AI committee at ProfitSolv, the parent company of both Rocket Matter and Law Ruler, that is looking across the company's products for opportunities to integrate AI. This Rocket Matter integration is the first of what will be a series of integrations across multiple products.
The Rocket Matter integration accesses GPT using OpenAI's application programming interface (API). That is an important security consideration for lawyers, Jacobs said, because it means that OpenAI is not using the data submitted by Rocket Matter users to train and improve its models.
"When you're using ChatGPT functionality through Rocket Matter and our other portfolio companies at ProfitSolv, we feel that we're giving you a safer path because we use the OpenAI API, which is the business version, where it is set up so that the data is never used to train their AI," Jacobs said.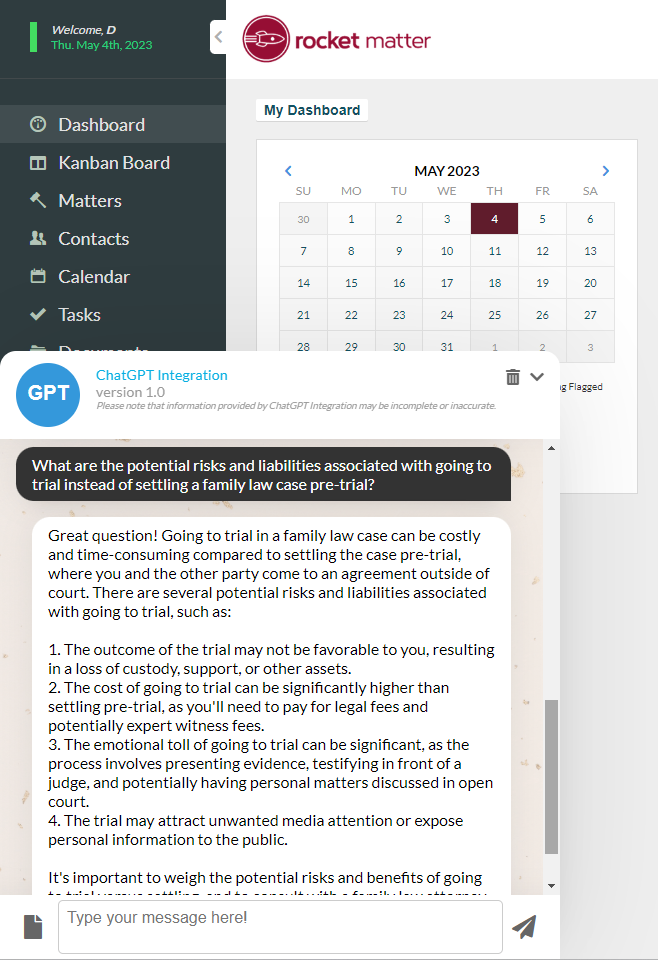 (Note that, under OpenAI's API data usage policies, any data sent through the API is retained "for abuse and misuse monitoring purposes" for a maximum of 30 days, after which it is deleted.)
Within the Rocket Matter platform, the ChatGPT integration is designed to blend into the existing interface. Users will see a small ChatGPT bubble-shaped icon, which they click to access the chat.
Jacobs demonstrated asking it to draft a short social media post about why someone with an immigration problem should hire this firm. It quickly generated a useable post, complete with hashtags. Next, he asked it to draft a message about the potential consequences of going to trial versus settling before trial in a family law case.
"By being an early adopter of this technology, our law firm clients can be more competitive because this industry changes every day, and we want our clients to be on the forefront of that change," Jacobs said.