Gavelytics, a company that launched in 2017 to provide insights on judges through data analytics, has introduced a major expansion of its product, adding analytics on law firms, lawyers and litigants, expanding coverage to 10 states with 20 targeted by December, and adding a searchable database of some six-million litigation briefs.
This new version, dubbed Gavelytics 2.0, maintains the platform's in-depth analytics on state court judges, while adding data on law firms, litigants and lawyers that shows the types of cases in which they've been involved, the judges before whom they've appeared, and the clients they've represented (or, for litigants, the firms they've used).
It currently provides these analytics for 10 states: Arizona, California, Florida, Georgia, Illinois, Nevada, New York, Ohio, Pennsylvania and Texas. Coverage in these states varies, with nearly complete coverage of trial courts in some states and coverage limited to larger metropolitan areas in other states.
By the end of the year, founder and CEO Rick Merrill told me during a recent demonstration, it will have coverage for 20 states. Although Merrill declined to name the 10 states to be added, he said they are concentrated in the Midwest.
The new database of litigation briefs adds some six million documents to a collection that already included court dockets and judges' rulings. Briefs can be searched and sorted by type, law firm and outcome. Coverage is heaviest in California but also includes briefs from other states.
Judge Analytics
As I explained in my prior post about Gavelytics, its platform provides four categories of analytics about judges:
Motion Analyzer. Shows how a judge tends to rule on more than 100 different types of motions compared to the average judge in the jurisdiction.

Judicial Workload. Shows how the judge's workload compares to the average judge in the jurisdiction.
Gavelscore. Scores each judge on the judge's propensity to rule for plaintiffs or defendants.
§170.6 Analyzer. California Code of Civil Procedure §170.6 gives parties the right to disqualify a judge from a case without having to show a reason — a move described as "papering" a judge. This analyzer tracks how often a judge is papered, from what type of party, and in what type of case.
Gavelytics now also provides attorney reviews of judges, which its licensed from James Publishing.
Law Firm and Litigant Analytics
For law firms, Gavelytics now enables you to see analytics on the types of cases in which they've appeared, the judges before whom they've appeared, the parties they've represented and the law firms they've opposed in litigation.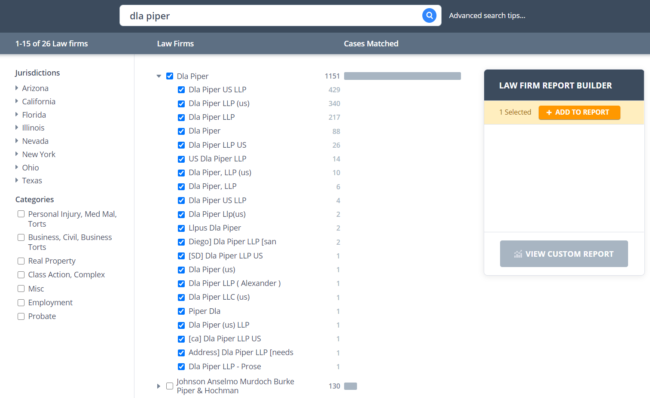 A problem with searching docket data for law firm names is that the names can appear in multiple variations or even be misspelled. Gavelytics uses machine learning to correct for this. As the image above shows, if you search for DLA Piper, it presents you with all possible name variations in its data that could possibly be that firm.  You can select which to accept.
As you examine this data for specific firms, you can drill down to specific dockets and docket entries. So if you want to see all of the cases in which Firm X went up against Firm Y, you can do that, and drill down into the specific cases, parties and dockets.
Sometime soon, Gavelytics will extend its Motion Analyzer to law firms and individual attorneys. Where it now shows how a judge tends to rule on different motion types generally, it will also show how the firm or attorney has fared on different motion types, or even on different motion types on behalf of a specific client.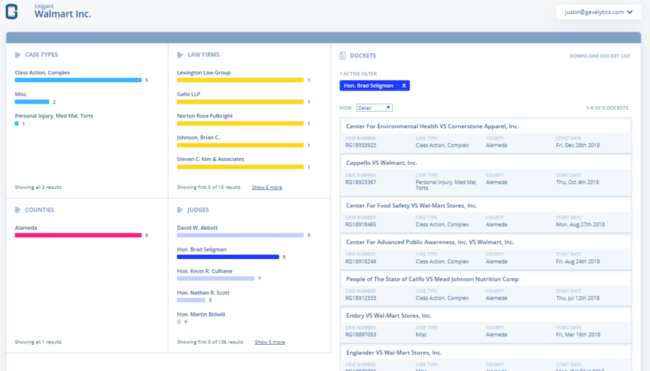 Searching for litigants is similar to searching for law firms, in that Gavelytics will present all the possible variations on a company's name and let you choose the ones to use.
Even as Gavelytics expands into multiple states, it is still charging a single, all-encompassing subscription fee. You cannot subscribe to a single state or group of states. While that may change at some point, Merrill said, it will remain that way for the time being.
Bottom Line
By expanding the types of analytics it provides to include law firms, lawyers and litigants, and by expanding its coverage of state court dockets, this version 2.0 represents a major step forward for a company that had previously focused on California judges.