A survey of private equity firms in the U.S. and U.K. finds that a softening market for M&As and fundraising, exacerbated by the COVID-19 pandemic, is causing them to scrutinize their external legal spend more carefully than ever before.
But even as this occurs, many of these firms still lack legal spend management technology and instead still collate and analyze legal spend data manually in Excel.
The survey, commissioned by the spend tracking, management and analysis company Apperio and conducted by the independent research firm Coleman Parkes, polled 100 senior in-house legal professionals at U.S. and U.K. private equity (PE) firms with an average of more than $10 billion under management across multiple funds.
Their spend, the survey found, is substantial. Last year, U.S. PE firms spent an average of $10.5 million on outside legal fees, while U.K. firms spent an average of $8.6 million. Some firms spent more than $25 million.
Over the course of a typical acquisition, U.S. PE firms spend an average of $353,000 on outside counsel. In the U.K., the spend for an acquisition averages $253,000.
But on both sides of the Atlantic, even before the pandemic, legal stakeholders in PE firms anticipated a decrease in M&A activity, and they believe the pandemic will make matters only worse.
That is putting pressure on legal departments to cut and better manage their legal spend, the survey found.
In the U.S., even before the pandemic, 91% of senior in-house legal stakeholders expected a decrease in M&A activity. Since the pandemic, the number who expect a decrease has risen to 93% – 70% of them expecting a decrease of 6% or more, 23% anticipating 10% or more.
In the U.K., 74% of senior in-house legal executives expected the volume of M&A activity to decrease prior to the pandemic. Since the pandemic, no respondents expect M&A to increase. Instead, 21% believe it will stay the same and 79% believe it will decrease.
But it is not just the lower numbers of deals that are pressuring legal departments to cut spend. The survey found that increases in other costs are also major factors, as are the introduction of procurement skills and procurement teams.
Increased Scrutiny
All of this adds up to a rise in the level of scrutiny applied to external legal spend at PE firms, the survey determined. In the U.K., the level of scrutiny has risen 41% since 2015, and in the U.S., it has increased by 24% since 2018.
The net result of all this is that 86% of PE legal departments expect their outside legal spend to decrease in 2020, 74% in the U.K. and 98% in the U.S.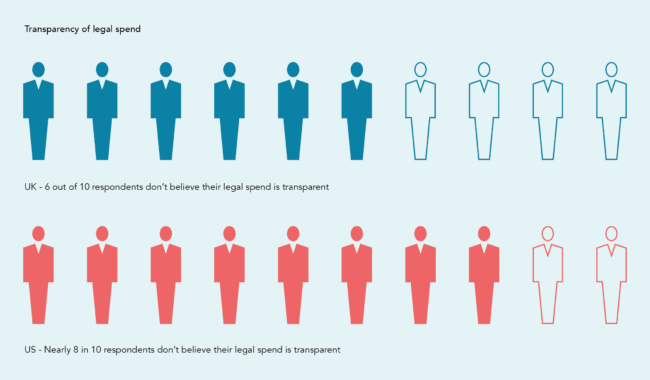 But even as the level of scrutiny increases and spend decreases, the survey suggests that there is a disconnect in the ability of legal departments to scrutinize spend. Many companies do not even make the effort and most respondents do not believe their legal spend is transparent.
In fact, while legal departments overwhelmingly trust the advice they receive from their outside firms, only one in three U.S. firms and 45% of U.K. respondents trust their outside counsel to bill them accurately.

On top of that, a staggering 91% of PE firms still collate and analyze legal spend data manually in Excel. The irony of this, as the survey points out, is that these are the same firms that are investing billions in companies that are developing the technologies of the future.
With this survey sponsored by a legal spend management technology company, it will come as no surprise that the report sees technology as a solution to this situation. As the report concludes:
"In-house legal teams at PE houses need a single source of spend data to provide live metrics on how firms are delivering against KPIs and prevent law firms over-charging. Being able to constantly monitor work in progress means issues of timeliness and billing accuracy simply disappear. Such a data source can also be used to provide a clear audit trail for regulatory compliance."
But while that conclusion may come as no surprise, it is also one about which there should be no debate. Any number of tools are available to legal departments to easily track and analyze spend data. These tools enable companies to better budget their legal matters, better adhere to those budgets, and better hire and manage outside counsel.
There is much more information in the full study report. If you're interesting in reading it, you can download a copy by clicking here or you can request by by email to marketing@apperio.com.
In addition, Apperio will be conducting a free virtual panel debate based on the study on Wednesday, July 29, at 11 a.m.-noon EDT. Learn more and register here.