Earlier this year, Mark Britton left Avvo, the often-controversial company he founded in 2006 and led as CEO, after selling it to web behemoth Internet Brands. Explaining his departure in a memo to his staff, he wrote, "It's time for me to go."
In the latest episode of LawNext, Britton reflects on his 12 years at Avvo. In a face-to-face interview I conducted with him last week in his home base of Seattle, Britton recounts why he started the company, discusses why he sold it to Internet Brands, and explains why he left. He talks about what he believes his company achieved and what he achieved as CEO. He reveals his greatest disappointment and his frustration with Avvo's ongoing battles with the organized bar. He also offers his advice to budding entrepreneurs.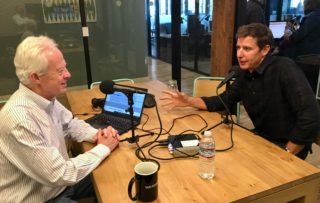 Before founding Seattle-based Avvo, Britton was senior vice president, general counsel and secretary for Expedia after it spun off from Microsoft. Earlier, he was an attorney with Preston, Gates & Ellis in Seattle and senior counsel with the U.S. Securities and Exchange Commission. He is a 1992 graduate of The George Washington University Law School and a 1989 graduate of Gonzaga University.
Listen above, on Apple Podcasts, or via your favorite podcast player. To never miss an episode, subscribe on Apple Podcasts or via RSS, or like us on Facebook. And if you like what you hear, say something nice in Apple Podcasts. Your ratings help us reach more listeners.
Comment on this show: Record a voice comment on your mobile phone and send it to info@lawnext.com.
Related posts: