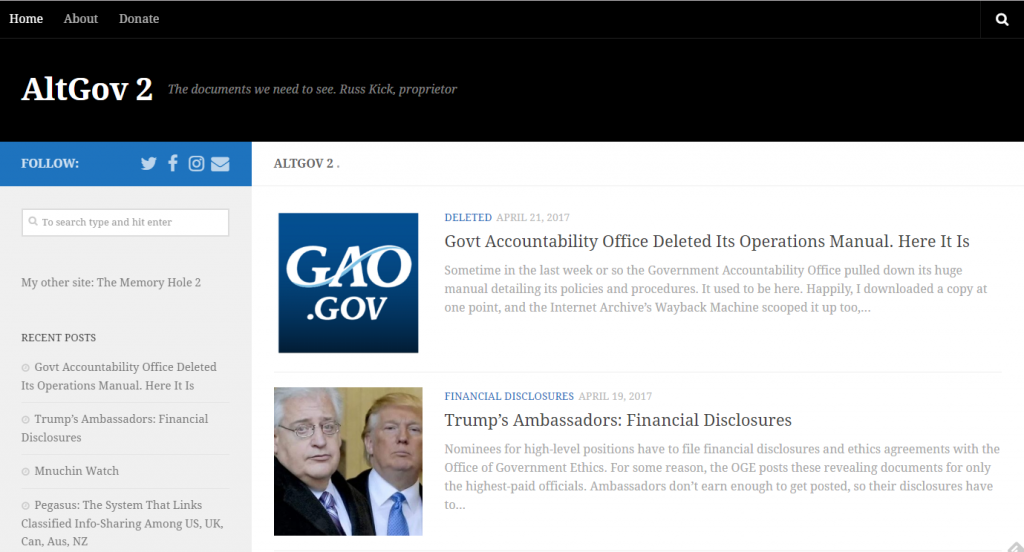 In George Orwell's Nineteen Eighty-Four, the memory hole was where government officials deposited politically inconvenient documents for destruction. From 2002 to 2009, the website The Memory Hole served the opposite purpose, rescuing government and corporate files from disappearance or obscurity.
The site garnered controversy in 2004, when it published photographs of the coffins of service members killed in Iraq, after the Pentagon had banned the news media from taking their own pictures of the coffins. The Pentagon eventually lifted the ban.
Although the original site shut down, last year its founder Russ Kick launched a successor site, The Memory Hole 2. And just this week, he launched a companion site, AltGov2.
The Memory Hole 2 continues the work of the original site, striving to save important documents from oblivion. It does this in several ways:
Tracking what documents the U.S. government has taken offline, recovering them, and reposting them.
Digitizing and posting important documents that previously existed only on paper.
Filing FOIA requests and then posting the results.
Posting documents obtained by other researchers.
Mirroring important documents that seem in danger of being pulled offline.
Posting documents that are available but are languishing in obscurity.
Converting documents from inconvenient or cumbersome formats into convenient ones.
Recent postings to The Memory Hole 2 include security camera video and police audio relating to the United Airlines incident, a list of all universities under Title IX investigation relating to sexual violence, and SEC nominee Jay Clayton's "shrinking bio" and financial disclosure.
The new AltGov2 is similar in its purpose of preserving rate and endangered documents, but Kick says there's a twist:
I'll be creating pages that are each focused on a single agency/component, such as the DEA, TSA, NORAD, Federal Reserve, etc. Other pages will be devoted to a single topic: polygraphs, asset forfeiture, drones, etc. This will allow me to present lots of important, diverse documents in a more systematic, organized way.
Among the documents posted there so far:
The bottom line is that if there is ever a government document you need that you can't find anywhere else, you might want to try here.