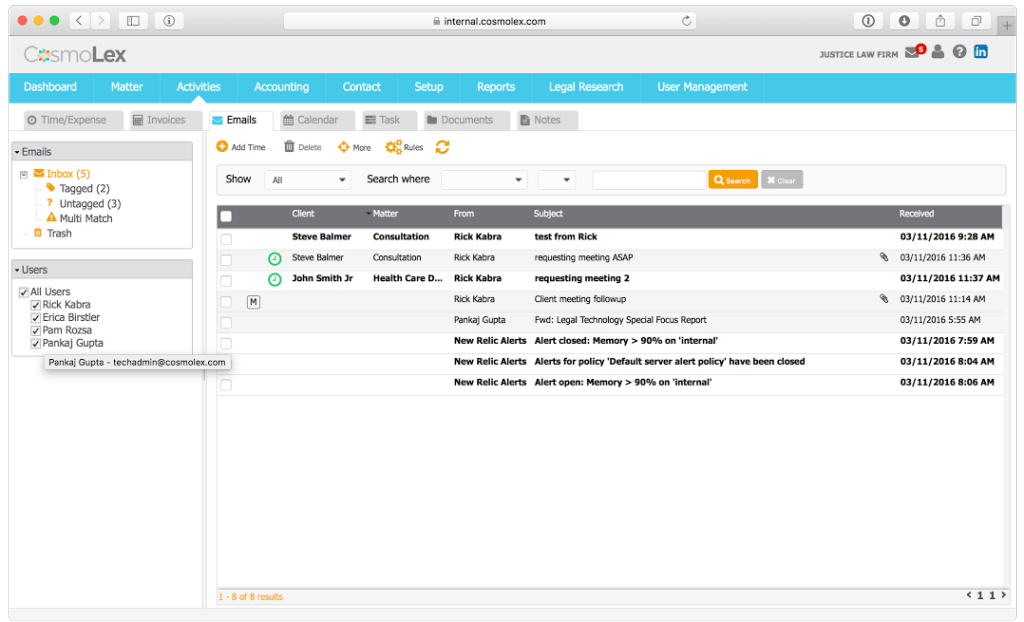 The cloud-based practice management platform CosmoLex will be unveiling a new matter-based email integration at ABA Techshow next week. The integration will allow users to manage all their email from any email program within the CosmoLex platform and to keep emails together with all other documents and information pertaining to a particular matter.
The integration works with any email provider, by auto-forwarding copies of all incoming and outgoing emails, including attachments, to a law firm's CosmoLex account, and then automatically tagging them to the appropriate matter. You can view emails on a matter-by-matter basis, in which you see only the emails associated with that matter, or globally, in which you see all your emails.
The feature will be available to CosmoLex subscribers over the weekend and will be officially announced next week.
CosmoLex describes this integration as its "Matter Circles," in that everything related to a particular matter is combined in one place: documents, meetings, tasks, billing, costs, payments, trust transactions, and now email.
[Full disclosure: CosmoLex is a paid advertiser on this blog.]
Earlier today, CosmoLex CEO Rick Kabra gave me an advance look at the new email integration. The way it works is through email forwarding. CosmoLex assigns each subscriber firm a unique email address. Then, when you send an email in whatever program you use — Outlook, Gmail or any other — you simply blind-copy the email to the CosmoLex address.
For incoming emails, you have two choices. Either you can set your email program to forward all emails to the CosmoLex address or you can forward them individually.
When the forwarded email is received by CosmoLex, it automatically matches it to the client based on the email address. If the client has multiple matters, it prompts you to choose the correct one. If the system doesn't recognize the email address, it prompts you to select the appropriate matter.
Once the email is in CosmoLex, a user can record the time spent on that email, with the time automatically billed to the associated matter. The time is tagged directly to the email so that the user can go back later and see directly from the email how much time was billed for it.
Users who have administrative privileges will be able to set who sees which emails. A managing partner may want the ability to see the emails of everyone else in the firm, while an associate or staffer may be restricted to only his or her own emails.
The system also enables users to set rules for how to handle certain kinds of emails.
Note that this is not an email client. This is for storing and viewing emails and their attachments in connection with the matters to which they relate. You cannot compose and send an email from within CosmoLex. "Lawyers don't want to give up their Outlook or Gmail," Kabra says.
If you are attending Techshow next week, you can find CosmoLex at booth numbers 410-412.