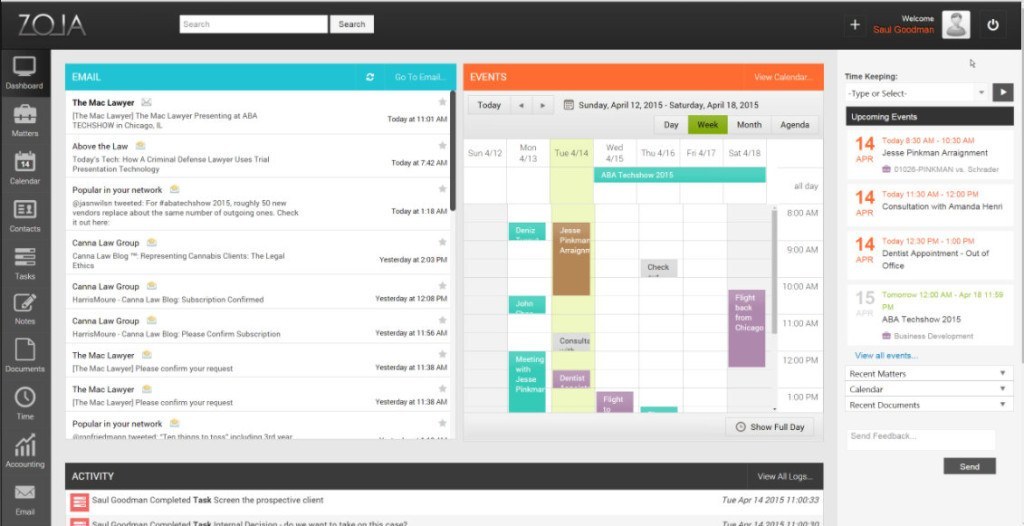 When I learned that yet another cloud practice management platform would be launching at ABA Techshow, I was skeptical. After all, there are already a number of worthy products in this space. But after seeing a preview of the new platform, which is called Zola, I was impressed.
Earlier this week, Fred Cohen, a cofounder of Zola, gave me a demonstration. Cohen is a former practicing lawyer who also runs the lawyer website and marketing firm Amicus Creative Media.
Let me be clear that I have not actually used the product, which is slated to launch today and be shown at Techshow. But based on the demonstration, here is what impressed me about it.
First, this appears to be a fully thought out and developed practice management platform with all the features most lawyers would want. I have seen other products launch in this space when they are still half-baked, with promises of other features to come somewhere down the road. Cohen said that he has spent years designing and building this platform, and this is not a beta launch.
Second, it has all the key features a lawyer would want. It includes:
Case, task and event management.
A complete double-entry accounting system, including trust accounting and check writing.
Timekeeping and invoicing.
Document management with tagging and versioning. Soon it will also include the ability to edit documents in the .docx format directly within the application.
A client portal for sharing documents with clients and having them upload documents of their own.
Business process management, allowing firms to create and assign predetermined procedures for handling specific matters.
Audit trail logging, automatically tracking every user action within Zola and also serving as an activity stream.
Third, it has a fully functional, native email client built directly into the application. Cohen says this is the only practice management platform that has this and I believe he is correct about it. It actually uses your own email account through the IMAP protocol, which allows multiple email clients to connect to the same mailbox.
This means that you can read and respond to email within the application and still use Outlook or some other email client as well. If you send an email from Zola, it will show up in your sent items folder in Outlook. The one difference here from the standard IMAP protocol is that when you tag an email to a matter in Zola, a copy of the email is saved with that matter. Even if you later delete the email from Outlook, the copy is retained with the matter in Zola.
Zola examines incoming emails and if it recognizes an email address as related to a matter, it highlights that email and tags it to the matter. You can undo this tagging, of course, or assign it to a different matter.
Fourth, Zola has a really nice clean and modern user interface. A nice touch is that every function has its own color coding. So email functions always have a turquoise bar over them, calendar functions always have an orange bar, matters always have a lavender bar, etc. A navigation bar down the left side of the application lets you move easily from matters to calendar to contacts to tasks and so on. Every page has a plus sign that you can click on to quickly add a new event, task, email or whatever.
There are other nice touches in the UI. When creating either a note or task, for example, you can use full formatting, bullets and hyperlinks. On some other platforms, the note and task tools are text-only and do not allow formatting.
Zola also has its own iOS app, although it is not yet available in the Apple Store. It should be there within a week, Cohen tells me. An Android app is in development and will be released later.
Still to Come
Even though I described Zola as a fully developed product, other features remain in development. Cohen provided me a list of items he is working on adding in the near future. They include:
Dashboard: Customizable elements.
Documents: Folder hierarchy.
Notes: Folder hierarchy.
Time entries: Ability to set rates by user, per matter.
Invoices: Discounts per line item.
Accounting: Download bank activity and reconcile.
Billing: When invoicing unbilled activities, filter by date range.
Invoice templates (there is currently only one, but it can be customized with your logo and a variety of settings for what information appears on it).
Client Portal: Ability to pay invoices directly.
Another feature I would like to see that is currently missing from the product is the ability to synchronize the calendar with Outlook or another calendar.
Pricing
A monthly subscription to Zola will cost $68 per attorney and $34 per staff person. For solo attorneys, the price caps at $99 a month for one attorney and up to three staff members. A one-month free trial is available.
Bottom Line
I have to emphasize again that I have not actually tried this product. I have only seen a demo. During that demo, Cohen told me that when he set out to create Zola, he did not want it to be simply a "me too" duplication of other platforms already on the market. From what I have seen, Zola has done a good job of coming up with a full-featured platform that has a number of elements that distinguish it from others. If you are in the market for a practice management platform, this looks like one to check out.