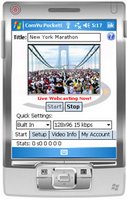 A new service enables anyone with a 3G mobile video phone to broadcast live video to the Web and archive the video for later viewing. Called ComVu PocketCaster, it works with Windows Mobile and Symbian smartphones (list of supported phones). Literally with the push of one button on your phone, PocketCaster begins streaming video to the Web, either to a ComVu page or to your own blog or other preselected Web page. And with the push of another button, it will send e-mails or text messages to your designated contacts notifying them of the live video stream. Streams are simultaneously archived on ComVu's servers, so that you and others can watch them anytime from their computers or phones.
Having tried it for several days, I can report that it is ridiculously simple to use and works surprisingly well, although the video quality varies and is never great. Best of all, the basic service costs nothing to use. Once you register, ComVu sends a text message to your phone with the link to download the software. Installation takes just seconds and after entering your username and password and setting a couple preferences, you are ready to go. From then on, you never need enter log-in info again — just press start and within seconds you're Webcasting.
You can choose whether to broadcast pictures and audio or pictures alone. You can also choose whether to stream the video with or without archiving. If you have a weak or non-existent phone signal, you can save the video locally and upload it later. If your phone is GPS-enabled, PocketCaster will geo-tag the transmission and show the location on a map while the video is streaming. You can also add your own tags and keywords to the video.
You can manage your videos on the Web through your personal page on ComVu's site. Here you can review videos and edit their information and tags, add and edit contacts, set access levels for sharing of your videos, set up ComVu to broadcast to your blog or YouTube account, and manage other functions. You also get a PocketCaster page where your live videos appear. You can make this page public or limit it to those with a password. You can also customize this page with a title, logo and photo. Here is my webcast page.
The service has its imperfections, among them:
The video quality is not great. Where I am on the rocky coastline north of Boston, it is difficult to get a strong 3G signal on my phone. It seemed that weaker signals meant choppier video and more difficulty connecting to the service. In Boston Saturday night, I connected easily, but low light also made for murky video.
PocketCaster can be configured to post streaming video to blogs built on Typepad or WordPress, but not Blogger — which, of course, is what I use.
You are not able to control your phone's video functions, such as zoom and contrast.
The ComVu Web site is quirky. Sometimes even after I log in, it persists in routing me back to the log-in page when I try to view or edit archived videos.
The video quality is not of a standard that you would use for a professional Webcast. But I can imagine any number of ways a lawyer could make use of the ability to broadcast video to selected contacts on an impromptu basis. Perhaps you simply want to share something you're viewing with a partner back in the office, want to conduct an on-the-stop video conference, or even want to transmit part of a deposition or other proceeding. You could even use this to create a video back-up of an interview with a potential witness, although I would not rely on it as a primary record.
In my opinion, you should sign up for the service, load it on your phone and give it a whirl. You never know when it might come in handy to be able to press a button on your phone and begin streaming video.